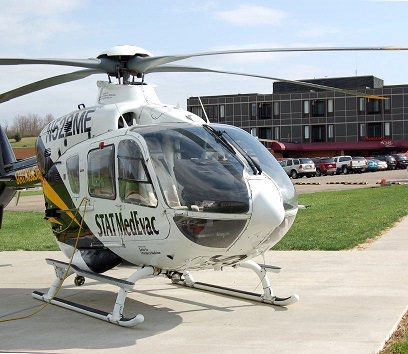 Since May 2007, STAT MedEvac, a medical transport helicopter, has been permanently based at ACMH Hospital. The base is staffed with an EMS Pilot, a Flight Nurse, and a Flight Paramedic 24 hours per day, 365 day per year. This allows ACMH Hospital and STAT MedEvac to provide an additional benefit toward addressing the overall healthcare needs of the community, while intimately linking our hospital to other major Pittsburgh hospitals.

The features that STAT MedEvac has to offer are numerous. The STAT MedEvac helicopter is equipped with everything that is available in an ambulance, and more. The Flight Nurse who is present on every flight is permitted to administer prescribed medicines that paramedics in an ambulance cannot give. Additionally, the helicopter is stocked with medical supplies including, but not limited to, packed red blood cells, a ventilator, and oxygen equipment. It is also equipped with balloon pump capabilities, which can temporarily assist a failing heart. All of these provide continuing care to the patient during transport.
STAT MedEvac is the only critical care transport program in Pennsylvania to be fully accredited in all modes of transport (rotor wing, fixed wing, ground critical care and medical escort). The accrediting agency states that two of the highest priorities of an air medical or ground inter-facility transport service are: (1) patient care, and (2) safety of the transport environment. The STAT MedEvac team believes in these priorities as well, and puts them into practice on a daily basis.
This service, not typically found in a rural, community hospital setting, is another way ACMH is striving to bring the best of healthcare to its patrons.