HEALTHGRADES NAMES ACMH HOSPITAL A 2023 JOINT REPLACEMENT EXCELLENCE AWARD™ AND FIVE STAR RECIPIENT FOR GALLBLADDER REMOVAL SURGERY

Kittanning, PA (9/11/23) – ACMH Hospital has been recognized as a 2023 Joint Replacement Excellence Award™ recipient by Healthgrades, the leading marketplace connecting doctors and patients. Healthgrades Specialty Excellence Awards recognize the top 10% of hospitals across the country in 17 specialty care areas. This achievement reflects ACMH Hospital's outstanding clinical outcomes for Joint Replacement and distinguishes ACMH Hospital as one of the nation's leading hospitals for Joint Replacement. ACMH Hospital has received the Joint Replacement Excellence Award™ for a second consecutive year (2022-2023).

ACMH Hospital was also recognized with the following achievements:
Five-Star Recipient for Total Knee Replacement for 3 Years in a Row (2021-2023)
Five-Star Recipient for Gallbladder Removal Surgery (2023)
On September 11th, ACMH hosted a gathering of staff, administration and leadership teams to receive the award and 5-star recognitions from Healthgrades.

Nichole Geraci, ACMH Hospital President and CEO, welcomed attendees and thanked teams involved with the achievement. "This award recognition underscores the hospital's commitment to high-quality specialty care," stated Geraci. "It is the result of multiple individuals and teams of healthcare professionals coming together for one common goal, the health and wellbeing of our patients."

Ms. Geraci thanked ACMH staff involved with the excellence award and 5-Star designation for total knee replacement. "I would like to recognize and thank our tremendously talented teams and individuals involved with today's recognition." She stated. "Specifically, we recognize orthopedic surgeon Dr. Bert Hepner, along with Dr. Kraig Graham, the staff at Armstrong Orthopedic Associates and the hardworking teams of ACMH personnel who support these surgical procedures. They are truly the best at what they do, and we are proud to have these individuals in our family of caregivers at ACMH."

Orthopedic Surgeon Dr. Bert Hepner, founding member of Armstrong Orthopedic Associates in Kittanning, expressed gratitude and thanked several specialized teams at ACMH for the honor. "It's so nice for our team to be recognized for this, but the true honor is to be able to care for the patients we see, and hear the appreciation we get from them," stated Dr. Hepner. "I want to thank everyone from housekeeping to the operating room staff. Everyone has put a lot of work into this, and I am really appreciative of their hard work and dedication."

Ms. Geraci was joined by Rachel Verdi, ACMH Executive Director of Risk and Quality Management, who acknowledged teams involved with the 5-Star designation for Gallbladder Removal Surgery. "ACMH is well known as a provider for both specialized and routine surgical services, and this 5-Star acknowledgement highlights just one of the many diverse surgical interventions offered here," stated Ms. Verdi. "ACMH is proud to recognize Dr. Sarun Suwan for being the driving force behind the 5-Star recognition for gallbladder removal surgery," Verdi continued. "We congratulate him and the entire team of medical professionals at Armstrong Surgical Associates, including Dr. Rebecca Edmonds and Dr. Kelly Zbanic for achieving this honor."

Armstrong Surgical Associates surgeon, Dr. Sarun Suwan, was asked to speak at the podium. "It's an honor to be recognized for the care we provide," said Dr. Suwan. "We all strive to do the best we can, but it's really the entire team here at ACMH that gets the job done."

Dr. Suwan continued by thanking all ACMH staff members for their part in the recognition. "We appreciate all of the effort that you put in. I thank you all because you are the truly the ones that make us look good."

Healthgrades evaluated patient mortality and complication rates for 31 of the most common conditions and procedures at nearly 4,500 hospitals across the country to identify the top-performing hospitals for specialty care. This year's analysis revealed significant variation in patient outcomes between hospitals with a 2023 Healthgrades Specialty Excellence Award and hospitals that did not receive the award. From 2019-2021, patients treated at hospitals receiving the Joint Replacement Excellence Award have, on average, a 63.5% lower risk of experiencing a complication while in the hospital than if they were treated in hospitals that did not receive the award.*

"We commend ACMH Hospital for their ongoing commitment to providing high-quality care to patients undergoing joint replacement," said Brad Bowman, MD, Chief Medical Officer and Head of Data Science at Healthgrades. "Consumers can feel confident that recipients of the 2023 Joint Replacement Excellence Award have demonstrated their ability to deliver consistently exceptional outcomes."

Consumers can visit Healthgrades.com to learn more about how Healthgrades measures hospital quality and access a patient-friendly overview of the complete methodology here.

*Statistics are based on Healthgrades analysis of MedPAR data for years 2019 through 2021 and represent three-year estimates for Medicare patients only. For appendectomy and bariatric surgery, Healthgrades used inpatient data from 16 states that provide all-payer data for years 2019 through 2021. Click here to view the complete 2023 Specialty Excellence Awards and Ratings Methodology.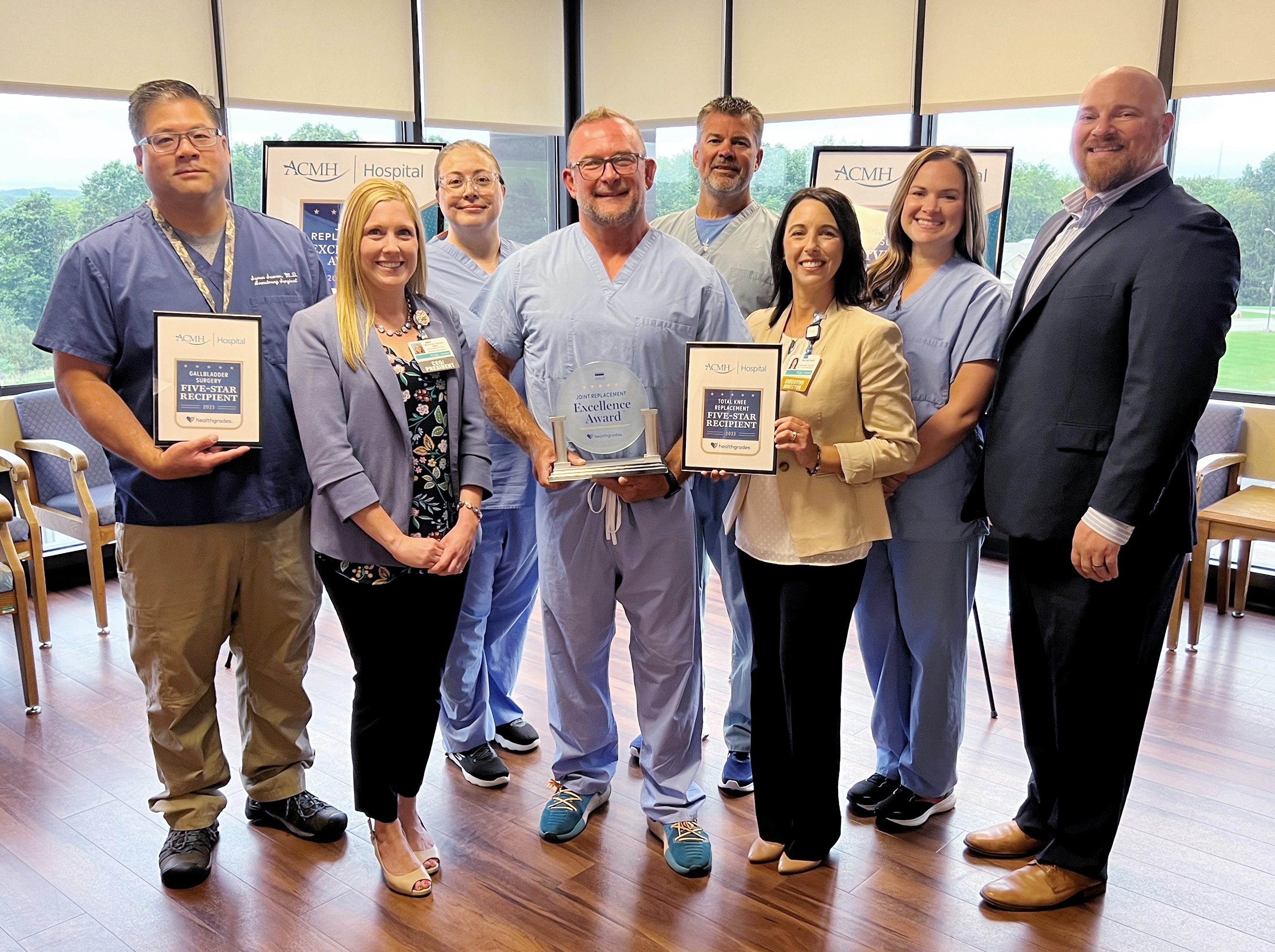 PHOTO: (L-R) Dr. Sarun Suwan, Armstrong Surgical Associates, Nichole Geraci, ACMH Hospital President and CEO, Dr. Kelly Zbanic, Armstrong Surgical Associates, Dr. Bert Hepner, Armstrong Orthopedic Associates, Matt Star, Certified Registered Nurse Practitioner with Armstrong Orthopedic Associates, Rachel Verdi, ACMH Hospital Executive Director of Risk and Quality Management, Heather Miklos, Physician Assistant with Armstrong Surgical Associates and Garret Spry, Senior Director of Quality Solutions at Healthgrades.