Organ recipients, families of donors, and members of the community gathered at ACMH Hospital on Friday, May 12 to raise the flag of CORE – the Center for Organ Recovery and Education.
The event was an opportunity to share the story of two-year old Kennedy Ross of Boston, who suddenly passed away this January. Thankfully, Kennedy's corneas were successfully donated to improve another child's quality of life.
After Kennedy was diagnosed, her aunt, Jessica Steffey, crafted a painting to help her cope with the grief. It served as a way to show support and connect with family members from Kittanning to Boston. The subject of the painting – a sunflower – was chosen to represent Kennedy's shining personality and love for life.
"What a blessing," Steffey exclaimed, "to be able to enhance another child's vision, to see the beauty in the world just as Kennedy did every day of her 31 months of life."
Lisa Damore, a registered nurse at ACMH, was attending a CORE seminar in March, where she heard the words "let life bloom." A close friend of Kennedy's family, Damore was inspired by these words and immediately thought of the sunflower painting she had seen so many times before.
"I wanted this painting to somehow become part of ACMH's Donate Life campaign," Damore explained. "Now ACMH has its own special way to remember those families who have been affected by donation, and the patients who have been able to donate a part of life so that others are given a second chance."
Copies of the painting will be seen on various units throughout the hospital, proudly displaying the names of those who were able to donate via organs, eyes or tissue.
Melvin Protzman of Butler also spoke at the event, delivering a passionate, heartfelt story of his own heart transplant, which occurred in 2011.
ACMH employees and community members purchased pinwheels prior to the event, which were seen in the lawn during the CORE flag raising. Each pinwheel symbolizes the power one person has to be an organ, eye, tissue or living donor – four sails supported by a single stem.
"Our purpose at CORE is simple," said Regina Graziano, Professional Services Liaison at CORE. "To deliver the gift of life through organ, tissue, and cornea donation. But we cannot accomplish that mission alone. The gift of life is possible because of the selfless choice made by individuals who simply said 'yes' to donation. Today we hope to remind everyone that when we work together, anything is possible."
"ACMH healthcare providers and hospital staff all play a critical role in support of organ and tissue donation," John Lewis, ACMH President and CEO, told the crowd. "Not just by the clinical and critical actions taken, but also by advocating the value and importance of donating organs and tissue."
There are more than 8,000 men, women, and children in Pennsylvania awaiting organ transplants; nationally, that number jumps to more than 120,000. Thousands more in this country are awaiting tissue transplants (HAP, 2017). One organ donor may save the lives of eight people; through tissue and eye (cornea) donation, that same person has the ability to help more than 50 people (CORE.org, 2017).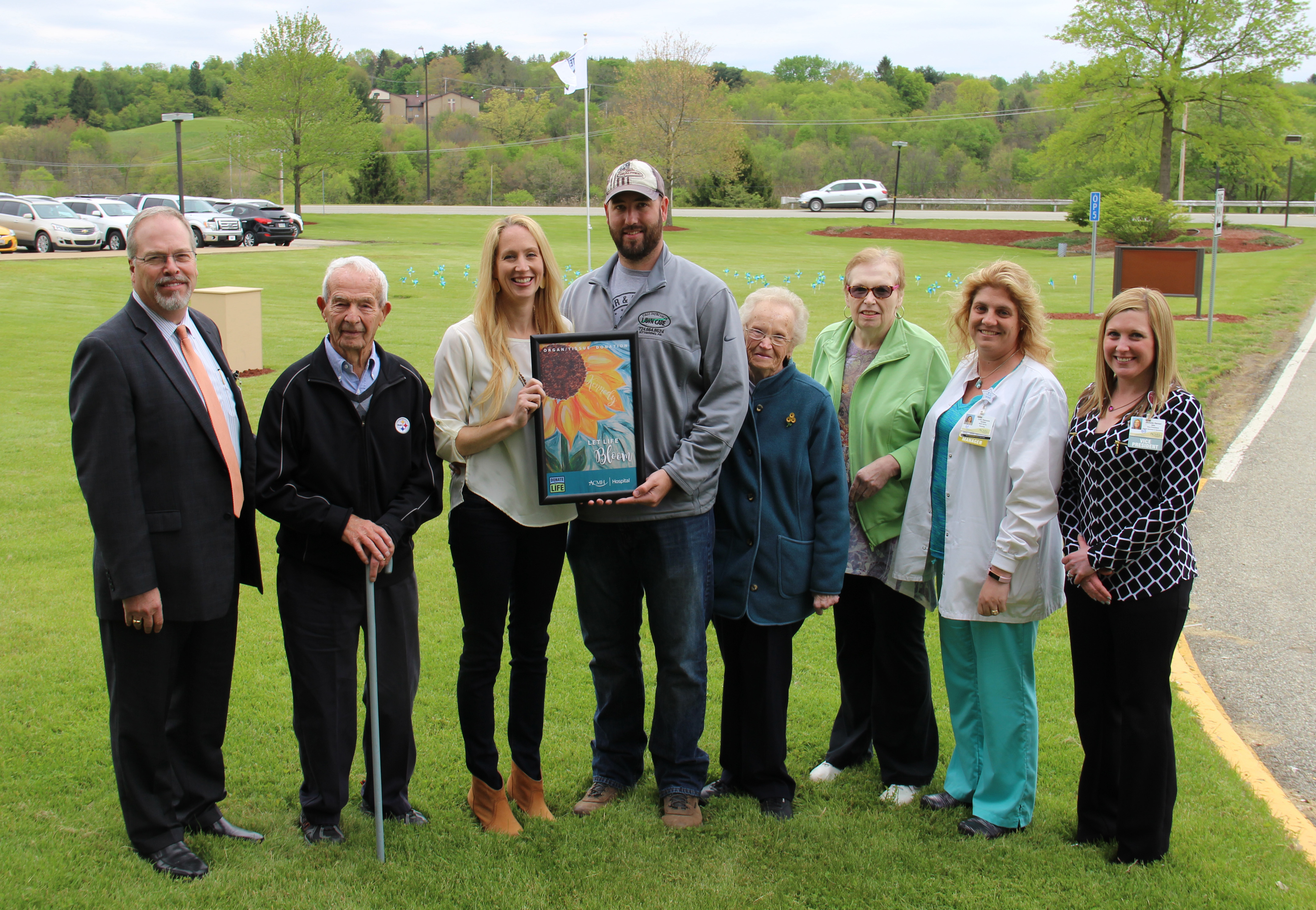 PHOTO LEFT TO RIGHT: John Lewis, ACMH President & CEO; Jack Steffey, Kennedy's great-grandfather; Jessica Steffey, Kennedy's aunt; Aaron Steffey, Kennedy's uncle; Myrna Steffey, Kennedy's great-grandmother; Bev Steffey, Kennedy's great-aunt; Lisa Damore, ACMH nurse; Nichole Geraci, ACMH Vice President of Patient Services & Operations.
About CORE
The Center for Organ Recovery & Education (CORE) is one of 58 federally designated not-for-profit organ procurement organizations (OPOs) in the United States. CORE works closely with donor families and designated health care professional to coordinate the surgical recovery of organs, tissues and corneas for transplantation. CORE also facilitates the computerized matching of donated organs and placement of corneas. With headquarters in Pittsburgh and an office in Charleston, West Virginia, CORE oversees a region that encompasses 155 hospitals and almost six million people throughout western Pennsylvania, West Virginia and Chemung County, NY. For more information, visit www.core.org or call 1-800-DONORS-7.